F.E.EM.
ELECTRONIC and ELECTROMAGNETIC FABRICATIONS

Single phase TRANSFORMERS | Three phase TRANSFORMERS | Single phase AUTOTRANSFORMERS | Three phase AUTOTRANSFORMERS
| Single phase INDUCTORS | Three phase INDUCTORS | Starting Motor REACTORS
FILTERS
for LOW FREQUENCY applications ( 50/60 Hz ) and HIGH FREQUENCY applications
DESING,DEVELOPMENT AND TRADING OF INDUCTIVE COMPONENTS FOR INDUSTRIAL AND PROFESSIONAL USE
WE ARE PARTNERS TO BE COLLABORATE TO RESEARCH AND THE DEVELOPMENT OF NEW INDUSTRIAL PRODUCTS
I founded F.E.EM. in 1996, after ten years of experience in the field of power electronics and dedicating myself to the internal realization of the machines for the various winding techniques, realizing the demands of the market for the production of magnetic and mechanical components. In subsequent years I have invested in the organization implementing the desing department exclusively to electromagnetic components ( autotrasnformers, transformers, inductance, starting motors reactors, filters – single phase and three phase ). This choice has made productivity gains by acquiring more and more customers among which the most important companies in the world operating in the sectors: civil and industrial power electronics, automotive, railway, military, naval, renewable energy, electric motors and components.
Benedetto Astelfo
We design and produce transformers and inductors operating in power electronics applications at frequencies from 50 Hz to 500 kHz.
Complete electromagnetic design, prototyping and components production
Production of custom electromagnetic components based on customer's specification
Electromagnetic products trading
ORGANIZATION, QUALITY
and COMPANY METHODOLOGY
Our team checks the technical requirements for the realization of each product from the electromagnetic calculation and the design of the mechanical parts. The business organization is structured according to the ISO certification guidelines, for monitoring the quality and documentation of business processes (from technical department, purchasing, production and commercial and administrative management) to ensure the traceability of components, maximize the effectiveness of each stage in the management of the order.
 R&D OFFICE
and PRODUCTION
R & D manager, in accordance to the company philosophy, has matured during last 20 years of collaboration with F.E.EM. lot of experience thanks to his dedication to work and the masters obtained at KG Magnetics USA directed by Prof. McLyman and others achieved in the USA. The insertion of new engineers has provided a more complete service for every customer request. We grow with the most common systems, such as KAN-BAN and BUFFER STOCK, adapting them to the needs of each customer.
Headquartered in Varazze (IT) handles all special products, great power items and prototyping.
We are translating the site in several languages
Soon the site will […]
Our staff visited the COILTECH 2017 International exhibition, for exhibitors specializing in materials and machinery of  "COIL WINDING"  industrial sector. COILTECH 2017 was in Pordenone [...]
F.E.EM. was present as a visitor to Schweissen-Und-Schneiden. "SCHWEISSEN & SCHNEIDEN is a MUST for the entire industry. As a principal technology meeting platform welding, [...]
TRANSFORMERS, REACTORS, WINDINGS
APPLICATION AREA
Power Electronic      Welding     Brushless Motors    Automotive    Railway   Wind Power    Solar    Military    Different Industrial Sector
2017
DC inductors for photovoltaic systems  ( SOUTH AFRICA )
Compact transformer + OUTPUT / INPUT filters for robotic systems in the welding industry ( GERMANY )
Medium frequency inductor for New York subway ( USA )
HV-HF transformers for railway industry ( RUSSIA )
Medium frequency inductor for peruvian railway ( PERU' )
HV transformer for Physical engineering Lab. ( FRANCE )
2016
HF three-phase reactors, AFE interface REACTORS for photovoltaic systems ( GERMANY )
Flat windings for railway DC motors ( MOROCCO )
HF inductors for nautical industry ( ITALY )
" fully water cooled inductors " for induction heating systems – steel industry ( TAIWAN )
2015
Flat windings for Austrian cableways DC motors   ( AUSTRIA )
Three-mono phase transformers for " heavy automotive" industry ( ITALY )
Combined three-phase filter for photovoltaic inverter  ( ITALY )
2014
Complete el.magnetic kit + 12 pulse rectifier ) for military aviation ,   F-35 Lightning II project ( ITALY )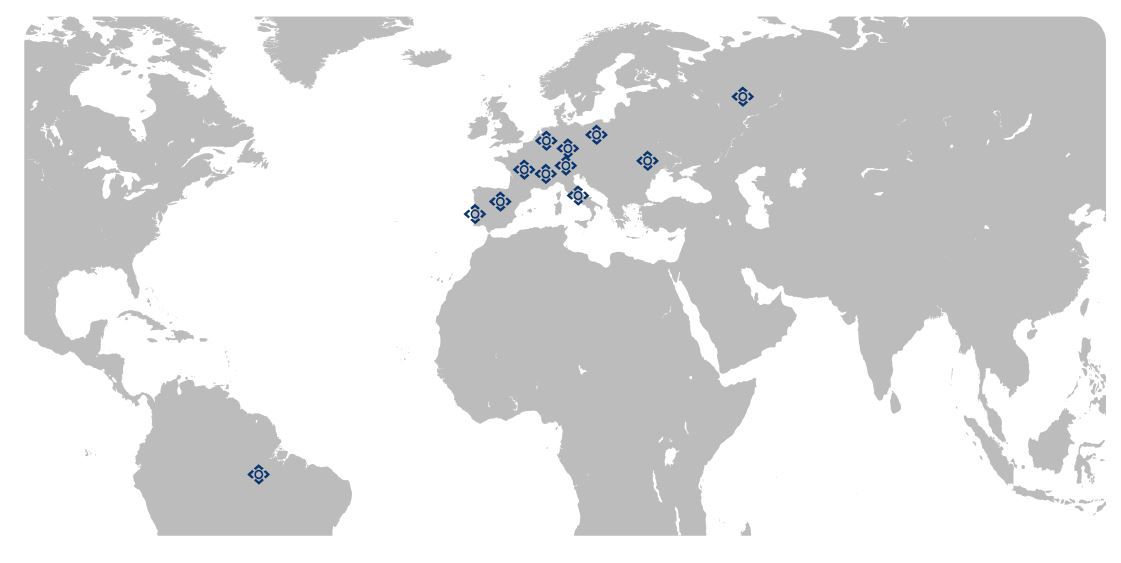 Our Commercial Agents are present in:
Italy
Germany
Belgium
Austria
Switzerland
France
Spain
Portugal
Poland
Russia
Ukraine
Brasil